2021 SCOTLAND'S NORTH COAST 500 TOUR
THIS TOUR IS CURRENTLY UNDER CONSTRUCTION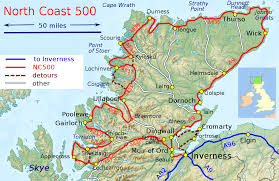 DATES: 2021 May 16th-27th ( 11 nights )
COST: tbc per person based on two people, per car, sharing a hotel room
The cost, per person, is based on two people, per car, sharing a hotel bedroom and includes the following:
Accommodation in 4 star or 5 star stylish hotels ( 11 nights )
3-course dinners each evening
Breakfast daily in hotels
Rally plate
Comprehensive road book with daily itineraries and detailed route instructions
Michelin map of Scotland with the route highlighted
Services of a Tour Director throughout the tour
NOT INCLUDED ARE THE FOLLOWING :
Lunches, snacks, coffees, etc.
Drinks with dinner
Entry to places of interest eg.castles, museums, gardens, villas, etc.
Motorway tolls
NORTH COAST 500
The North Coast 500 brings together a route of just over 500 miles of stunning coastal scenery in the far north of Scotland and was launched by the North Highland Initiative in 2015 as "Scotland's Route 66".
The anti-clockwise route officially begins in Inverness, the capital of the Highlands, before heading north to John O'Groats and Dunnet Head the northernmost point of Britain.
From here the route proceeds west along the north coast road through rolling grasslands to Thurso, famous among surfers then along the northern coast to Durness.
Here the route takes us down the northwest coast via Scourie, Unapool, Baddidarach, Ledmore to Ullapool. Then the route hugs the coastline around the peninsulas with views of Skye and the Western Isles. After passing through Glen Torridon and climbing over the Applecross Pass the route heads inland through Glen Carron and back to Inverness.
TOUR SUMMARY
An 11 day tour to Scotland with 5 days driving the entire North Coast 500 route.
To arrive at the North Coast 500 route we have designed a spectacular route up through Scotland which incorporates: Dumfries and Galloway, the Clyde Estuary, Loch Lomond and the Trossachs, Rannoch Moor, Glen Coe, Fort William, Ben Nevis, the Caledonian Canal and Loch Ness.
Our tour starts in Lakeside on Cumbria's Lake Windermere where participants arrive on the first day.
The next day we drive up to Dunbarton just north of Glasgow. On our third day, we take a scenic route up Loch Lomond then through Glen Coe up to Fort William and along Loch Lochy to our hotel in Invergarry.
On our 3rd day we drive through Glen Shiel up to Strathcarron where, just north, we join the North Coast 500 route east to Inverness through Glen Carron and Achnasheen to Contin before traversing Inverness to our hotel in Nairn overlooking the Moray Firth.
For the next 4 days, we follow the anti-clockwise North Coast 500 route with overnight stops in Invergordon, Thurso, Ullapool and Achnasheen.
Once we've completed the North Coast 500 route we spend the next two days driving back to Loch Lomond, just north of Glasgow.
On our final day, we drive from Loch Lomond around Glasgow and south across the border into England where we spend the last night of our tour on Lake Ullswater in the English Lake District.
DRAFT ITINERARY
Day 1 Sunday 16th May
Participants make their way to Lakeside on England's Lake Windermere in Cumbria's Lake District.
Participants arrive from early afternoon.
Our hotel overlooks Lake Windermere
Dinner tonight is in the hotel
Day 2 Monday 17th May
Lakeside to Bishopton 185 miles ( including 119 miles on motorways )
Our scenic route takes us up the east coast of Lake Windermere through Bowness then over the Kirkstone Pass to Ullswater where we drive up the entire west coast of the lake to Pooley Bridge.
Here we take the A6 north to Penrith then take the M6 north to Carlisle where just north we leave the motorway and drive along the A75 to Dumfries.
We then take the A76 northwest to Kilmarnock where we drive to Androssan on the Firth of Clyde.
The coastal road north from here is very scenic and takes us to north Paisley where our hotel is located overlooking the Clyde Estuary.
Day 3 Tuesday 18th May
Paisley to Invergarry ( 124 miles )
We leave the coast and take the A82 north along Loch Lomond
then still on the A82 across Rannoch Moor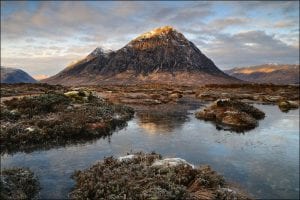 Staying on the A82 we continue northeast along Loch Lochy.
To our hotel in Invergarry where our hotel is located.
Day 4 Wednesday 19th May
Invergarry to Nairn near Inverness ( 130 miles )
Leaving Invergarry we take the A87 and head north-west passing Loch Cluanie
and Loch Duich
to Auchteryre.
Here we turn north to Strathcarron on the A890 along Loch Carron.
At Strathcarron we join the North Coast 500 route as it  leaves the west coast and heads towards Inverness.
We then drive through Glen Carron
to Achnasheen where we take the A832 and drive east  via Loch Luichart
and Black Water to Contin where we stop to visit the Rogie Falls where salmon leap upriver in summer.
We then continue via Beauly alongside the Beauly Firth.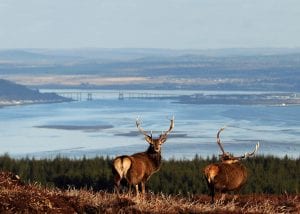 To Inverness.
Our hotel is in  Nairn, northeast of Inverness, overlooking the Moray Firth.
Day 5 Thursday 20th May
Nairn to Invergordon ( 106 miles )
We leave Nairn and drive around Inverness then detour from the North Coast 500 route to drive 23 miles down the south shore of Loch Ness
Fort Augustus is at the bottom of the Loch where the Caledonian canal joins Loch Ness
We then turn around and drive back up the north shore of Loch Ness back to Inverness where we rejoin the North Coast 500 route on the A862 alongside the Beauly Firth.
We then drive, via Beauly, to Mayburgh where we leave the NC500 Route to take another detour and drive around the Cromarty Peninsula stopping to visit the pretty Cromarty.
Back at Maryborough, we rejoin the route along the Cromarty Firth to Saltburn Dingwall. We then drive along the Cromarty Firth
to Invergordon where our hotel is located.
After checking in to our hotel there is an optional tour of the nearby Glenmorangie Distillery in Tain.
We then return to our hotel in Invergordon.
Day 6 Friday 21st  May
Invergordon to Thurso  ( 116 miles )
Leaving Invergordon we take the A9  across the Dornoch Firth to Golspie, a red sandstone town
Here we stop to admire the Sutherland Monument, a 30ft high statue on a 79ft column on the summit of Ben Bhraggie created by the Duke Of Sutherland who forcibly evicted 15,000 crofters from his million-acre estate in 1834!
A mile north of Golspie we visit Dunrobin Castle, the largest house in the Highlands and modelled on a Loire valley chateau. Dunrobin was designed by Sir Charles Barry,  the architect behind London's Houses of Parliament. It is the seat of the Sutherland family, once Europe's largest landowners, with 1.3 million acres!
From here the road starts to run along the coast all the way up to Wick but we stop in Helmsdale, a most picturesque village.
Wick was founded by the Vikings as Vik meaning Bay and in the 19th century was Europe's busiest herring port.
4 miles north of Wick we visit the Castle Sinclair Girnigoe dating back to the 14th century
Continuing up the coast we arrive in John O'Groats.

Here we visit Duncansby Head.
Which is not actually the northernmost point of Britain as this is claimed by nearby Dunnet Head 2 miles away.
We then follow the coastline west to Mey where Mey Castle was the Queen's mother's holiday home for 50 years and Prince Charles still spends two weeks there each year.
Our hotel tonight is based in Thurso, a legendary surfing resort.
Day 7 Saturday 22nd May
Thurso to Ullapool   ( 153 miles )
We leave Thurso and continue west via Tongue along bleak moorland intercut with sea lochs. 30 miles west of Thurso is Bettyhill, a crofting village set among rocky green hills and surrounded on either side by beautiful beaches.
A few miles further is Tongue, another pretty crofting town, then across the Kyle of Tongue and around Loch Eriboll towards Durness
A mile east of Durness is Smoo Cave a gaping hole in a limestone cliff created by the sea and a small burn.
Durness is the most northwesterly village on the British Mainland.
A mile northwest of Durness are the stunning white sands of Balnakeil Bay
A bit further is Cape Wrath which is closer to Iceland than to London and is the British mainland's most northwesterly point, and one of only two capes in the country. On a clear day, you can see as far as Orkney and the Outer Hebrides.
We then drive across country to Laxford Bridge, on Loch Laxford, then west to Scourie
Just offshore is Handa Island is host to one of Europe's largest seabird colonies.
From Scourie we drive down to Kylesku on Loch Glencoul and visit Britain's highest waterfall, Eas a' Chula Aluinn at 650ft.
We then continue down to Unapool then take a minor road to the pretty village of Drumbeg where we stop to visit the Little Soap and Candle Company, where all products are handmade on-site and exclusive to this shop.
We then continue to the beautiful strand at Clachtoll
And on to Achmelvich where the tiny bay cradles a white sand beach lapped by azure water.
We then continue to Baddidarach where we drive alongside Loch Assynt to Ardvreck Castle.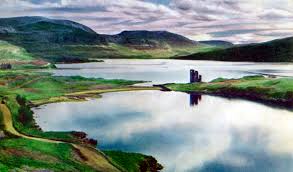 Our hotel is located on a peninsula overlooking the Summer Isles.
Day 8 Sunday 23rd May
Achiltibuie to Shieldaig ( 118 miles ) 
Our morning route takes us on the A835 south through Ullappol along Loch Broom to the Corrieshalloch Gorge where we visit the spectacular 160ft Falls of Measach.
Here we turn north-west along one of the most scenic roads on North Coast 500 along Little Loch Broom
We then drive around Gruinard Bay

to Aultbea, one of the best places for a marine wildlife Safari.
Next, we drive down Loch Ewe
We stop to visit Inverewe and Attadale gardens. a subtropical oasis of colourful foliage created by Osgood MacKenzie.
Continuing along Loch Gairloch, there is an option to take a detour to Badachro a secluded former fishing village.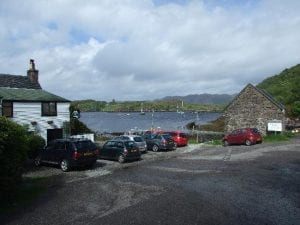 We then drive along Loch Maree, one of the area's scenic highlights, to Kinlochewe.
We then turn onto the A896 through Glen Torridon and along Upper Loch Torridon
We continue to Shieldaig, where our hotel is located.
Day 9  Monday 24th May
Shieldaig  to Invergarry ( 100 miles )
We leave Shieldaig and drive along the Applecross Peninsula where we hug the coastline around to Applecross and then over the Bealach Na Ba, the Pass of the Castle, at 2,054ft  and the steepest road ascent in the UK with a 1.5 gradient and hairpin bends reminiscent of the French Alps !
Driving along Loch Kishorn and Loch Carron we arrive in Lochcarron where we stop to celebrate the end of the North Coast 500 route as this is where we joined the route 5 days ago.
We take the A890 for Strathcarron turn south along the A890 to Auchtertyre overlooking Loch Aish
We then continue along Loch Duich
We then  drive through the Five Sisters to Loch Cluanie
and through the Bunloinn Forest to Invergarry where our hotel is located.
Day 10 Tuesday 25th May
Invergarry to Luss ( 100 miles )
We leave Invergarry and take the A82 southwest along Loch Lochy and Loch Linnhe to Oban.
At Oban, we turn inland over the Pass of Brander to Loch Awe
Then through Glen Lochy to Cranlanch.
Here we turn south and drive down Loch Lomond to Luss where our hotel is located.
This is our last night in Scotland
Day 11 Wednesday 26th May
Luss to Pooley Bridge ( 155 miles )
After breakfast, we take the motorway around Glasgow then down to Penrith where we leave the motorway and drive to Pooley Bridge at the top of Lake Ullswater
Our hotel for the last night of the tour is located on Ullswater
Thursday 27th May
After breakfast, we say our farewells and make our own way home.