2022 YORKSHIRE DALES AND MOORS AUTUMN TOUR
SUMMARY ITINERARY
A 5-day tour of the scenic Yorkshire Dales and Moors visiting dozens of pretty towns and villages along with museums and other points of interest.
DATES: 2022 SEPTEMBER 25th-30th ( 5 days/ 5 nights )
COSTS PER PERSON
A. 2 PEOPLE IN A CAR SHARING A HOTEL ROOM £1,150 per person
The costs include the following:
Accommodation in 4-star stylish hotels ( 5 nights )
3-course dinners, ( 5 nights )
Breakfast daily
Comprehensive road book with daily itineraries and detailed route instructions
Rally plate
Michelin map with the daily route highlighted
Services of a Tour Director throughout the tour
NOT INCLUDED ARE THE FOLLOWING :
Lunches, snacks, coffees, etc.
Drinks with dinner including bottled water, coffee and tea
Entry to places of interest eg. museums, gardens, etc.
DRAFT ITINERARY
Day 1 Sunday, 25th September
Hotel: Headlam Hall, Headlam, near Gainford, Teesdale, Darlington
https://www.headlamhall.co.uk/
Participants arrive in the afternoon at our country house hotel for the next 3 nights in Headlam,  just a couple of miles northwest of Darlington.
The hotel has a pool, spa facilities and a golf course so once checked in to the hotel you can relax around the hotel
Day 2 Monday,  26th September,
Headlam, local excursion  
Hotel: Headlam Hall
MORNING ITINERARY: HEADLAM TO HAWES, our morning coffee stop
Our morning route takes us southwest to Hawes, our morning coffee stop via: 
Richmond/Leyburn/Wensley/Aysgarth/Hawes
MORNING ITINERARY: HAWES TO HARROGATE, our lunch stop
After morning coffee, our route continues southeast via Skipton, to our lunch stop just west of Harrogate:
Hawes/Ribblehead  Station/Ingleton/Clapham/Austwick/Giggleswick/Settle/Kirkby Fell/Malham/Kirkby Malham/Airton/Gargrave/Harrogate
AFTERNOON ITINERARY: HARROGATE TO HEADLAM HALL 
After lunch, our route continues to Ripon where we take the AI (M1) to Scotch Corner and then north back to Headlam Hall
Harrogate/Bolton Abbey/Blubberhouses/Harrogate/Killinghall/Ripley/Ripon/AI (M1) /Scotch Corner/Piercebridge/Headlam Hall
After coffee, our route takes us east to the A1(M1) then north on the A1(M1) exiting at Scotch Corner to Piercebridge and Headlam back to our hotel, Headlam Hall
Day 3 Tuesday, 27th September
Headlam, local excursion  
Hotel: Headlam Hall
MORNING ITINERARY: HEADLAM TO RIPON/FOUNTAINS ABBEY, our morning coffee stop
Headlam/ J56 A1( M1)/J49 A1( M1 )/Ripon/Fountains Abbey
MORNING ITINERARY: FOUNTAINS ABBEY TO RIPON, OUR LUNCH STOP
Fountains Abbey/Ripon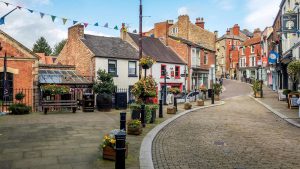 AFTERNOON ITINERARY: RIPON TO RICHMOND, OUR AFTERNOON COFFEE STOP
Ripon/Winksley/Kirkby Malzeard/PateleyBridge/Greenbow Hill/ Grassington/Kilnsey/Kettlewell/Buckden/Cray/Kidstones/Thoralby/West Burton/Wensley/Leyburn/ Richmond
AFTERNOON ITINERARY: RICHMOND TO HEADLAM HALL
Richmond/Gilling West/Aldbrough/Caldwell/Gainford/Headlam
We return late afternoon to Headlam Hall
Day 4 Wednesday, 28th September
Headlam to Harome, near Helmsley  
Hotel: The Pheasant Hotel
https://www.thepheasanthotel.com/
MORNING ITINERARY: HEADLAM HALL TO SHILDON'S LOCOMOTION RAILWAY MUSEUM, our morning coffee stop
Our morning route takes us to Shildon and Locomotion, the National Railway Museum at Shildon.
Headlam/ Summerhouse/Walworth/Redworth/Shildon/Locomotion Museum
LATE MORNING ITINERARY: LOCOMOTION MUSEUM TO THE BOWES MUSEUM
After visiting the Locomotion museum, we travel east to the Bowes Museum, our lunch stop.
Shildon/Barnard Castle/Bowes/Bowes Museum
AFTERNOON ITINERARY: BOWES MUSEUM TO HELMSLEY
Bowes Museum/Scorton/Northallerton/Thirsk/Helmsley
Our scenic route takes us east to Helmsley, our afternoon coffee stop
AFTERNOON ITINERARY:  HELMSLEY TO HAROME
After our visit to Helmsley, we drive a few miles to our hotel in Harome
Dinner tonight is in the hotel's award-winning restaurant
Day 5 Thursday, 29th September
Helmsley to Appleby in Westmorland
Hotel: Appleby Manor Hotel and Garden Spa
https://www.applebymanor.co.uk/
MORNING ITINERARY: HAROME TO JERVAUX ABBEY, OUR MORNING COFFEE STOP
Helmsley/Sutton Bank/Thirsk/Masham/Jervaux Abbey
ITINERARY: JERVAUX ABBEY TO HAWES
Jervaux Abbey/East WittonCarlton/Kettlewell/Buckdon/Hubberholme/Oughtershaw/Hawes
ITINERARY: HAWES TO TAN HILL OUR AFTERNOON COFFEE STOP
Hawes/Muker/Gunnerside/Feetham/Reeth/Askrigg/Muker/Keld
Tan Hill
Our scenic route from Hawes takes us up Tan Hill to the Tan Hill Inn. It is the highest inn in the British Isles at 1,732 feet (528 m) above sea level
ITINERARY: LATE AFTERNOON, TAN HILL TO APPLEBY-IN- WESTMORLAND
Tan Hill/Brough/Appleby-in-Westmorland
Our route takes us into Cumbria via Brough to Appleby-in-Westmorland. Crossed by the River Eden, Appleby was the county town of the historic county of Westmorland. The Appleby Horse Fair, set up by charter in 1685 as a fair for horse trading, runs for a week in June, ending on the 2nd Wednesday in June. Today it is world-famous, the largest of its kind in the world, attracting a huge gypsy gathering. and is famous for its annual horse fair where gypsies and travellers converge from all over the country
The hotel is set in extensive gardens and has a swimming pool and spa facilities so if you arrive early you can relax around the hotel.
Friday, 30th September
After breakfast, participants make their own way home