2023 SPAIN'S COSTA DEL SOL/RONDA FLY-DRIVE TOUR

THIS IS A BRAND NEW TOUR
DATES: 2023 March, dates to be confirmed ( 6 days/ 5 nights )
COST: tbc  per person based on two people, per car, sharing a hotel room
The cost of the tour is based in euros due to the uncertainty of predicting conversion rates of sterling to euros.
6 DAY TOUR the cost, per person, is based on two people, per car, sharing a hotel bedroom and ferry cabin and include the following:
Accommodation in 4 * stylish hotels ( 5 nights )
3-course dinners, ( 5 nights )
Continental breakfast (daily in hotels)
Comprehensive road book with daily itineraries and detailed route instructions
Michelin map with the route highlighted
Services of a Tour Director throughout the tour
NOT INCLUDED ARE THE FOLLOWING :
Lunches, snacks, coffees, etc.
Drinks with dinner
Entry to places of interest museums, gardens, villas, etc.
Autor
ITINERARY
Day 1 Sunday
Participants fly in to Malaga
Manchester flight leaves at 16.05 arrives Malaga 20.00
Luton flight leaves at 6.50 arrives Malaga 10.50
Gatwick flight leaves at 9.35 arrives Malaga 13.25
Upon arrival at Malaga participants collect their hire cars then drive to our Parador hotel overlooking the town.
Dinner in the hotel's restaurant.
.
Day 2 Monday
A day exploring Malaga ( no driving today )
After a leisurely breakfast, we walk down into Malaga town for the day.
Day 3  Tuesday
Malaga to Ronda (  miles)
We leave Malaga and head into the hills to our morning  Mijas, a pretty hill top village
We then drive in a loop via Coin towards SanPedro where we take a sc enic mountain road through the Sierra Palmitera up to Ronda, where our Parador hotel for the next 2 nights is located next to the famous bridge and overlooking the gorge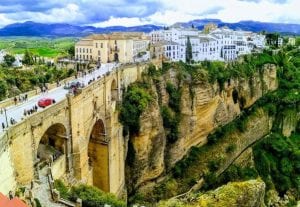 In the afternoon you can explore this scenic old town
Dinner tonight is in the hotel's restaurant
Day 4 Wednesday
Ronda, a scenic lakes and mountains excursion
Today we explore to the west of Ronda and drive into the mountains and lakes of the Sierra Margarita.
Our scenic route takes us northwest from Ronda via Villamartin to our morning coffee stop Bornos which overlooks a lake/reservoir
After coffee, we continue around the lake to Arcos de la Frontera, our lunch stop.
After lunch we drive east to Bosque into the Parque Natural de la Sierra
Our afternoon coffee stop is in one of Spain's prettiest villages.
We then return to Ronda.
Day 5 Thursday
Ronda to Marbella ( miles)
After a leisurely breakfast, we leave Ronda and drive south on a scenic road back to the coast to Estepona, our morning coffee stop.
Here we can visit the port and stroll through the old town
We then leave Estepona and drive to nearby Marbella where our hotel is based.
We then visit Porto Banus
Dinner tonight is in the hotel's restaurant
Marbella to Malaga Airport  (  miles)
After breakfast, we leave Marbella and head for the airport at Malaga to catch our flights back to the UK.
Manchester flight leaves Malaga at 11.10 arrives 13.20
Luton flight leaves Malaga at 11.45 arrives 13.45
Gatwick flight leaves Malaga at 14.00 arrives  15.55